At Kinky Curly Straight we are passionate about preserving our planet for the future generations and we try our best to help out. Looking around the salon you will see we try and put a green stamp to everything we do.
---
We save Water
And yes we know hair salons use lots of water, so we looked to install water saving taps and went even further by being the first salon in Adelaide to use eco-friendly disposable towels Easydry.
The Easydry towels are made from pure wood fibres, and are manufactured using eco-friendly materials and processes such as recycled water and solar energy, and contain no pesticide-hungry cotton or eco-disastrous plastic. They will biodegrade within 12 weeks and are 100 per cent recyclable. Every Easydry product is incredibly hygienic as every customer gets their very own brand new towel. No bleach is used to create the pure white towel, while the dye used for the jet black towel is non-hazardous and non-toxic.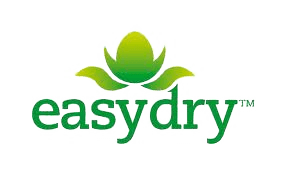 ---
We Recycle
All those colours and products we use in hair salons, well we at Kinky Curly Straight make sure we recycle every box, colour tube, shampoo bottle and paper from both our salon and the office.
We even recycle our coffee beans; we give them to be used as compost in local community gardens.
---
Carbon Neutral Business
At Kinky Curly Straight we go to big lengths to produce as few emissions and waste as possible. And what little we do produce we offset by paying off our carbon footprint.
In 2012-13 financial year Kinky Curly Straight produced 4 tonnes of carbon which was offset in full by paying into a renewable energy project.
The review of our energy consumption, waste, travel emissions, etc. was done by Balance Carbon company. For more information how your salon or company can be carbon neutral visit their website http://www.balancecarbon.com/. 
We use clean and renewable Electricity
Well we know that hair salons use up a lot of energy and that is why we partnered with companies that provide greener alternatives.
We use renewable energy provided by Momentum Energy who get their electricity from their parent company Hydro Tasmania. They generate clean energy from a hydro system that has been powering Tasmania for nearly 100 years.  And they are 100% Australian owned and operated.
When selecting hairstyling tools, lights and computers for our salon we look for energy saving options.

---
We Recycle our Foil
The foil we use in our salon is a bit special. We do use a lot of aluminium foil in hair salons, so we at Kinky Curly Straight found a company Refoil that supplies us with aluminium foil that is recycled and recyclable. We are proud to be the first hair salon in Adelaide using Refoil.
Refoil is made from recycled sources, saving up to 95% of the energy needed to make new aluminium for traditional salon foil. And Refoil is 100% recyclable. It can be recycled over and over again without loss of properties.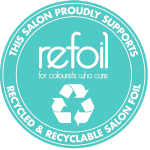 Did you know that aluminium doesn't get recycled if it's smaller than a tennis ball. We are on a mission together with ReFoil to get salons to make big balls out of their aluminium foil. And even more so to ensure every colour tube is wrapped up in aluminium foil to make sure the tubes get recycled as well. We are saving the world one aluminium tennis ball at a time.
Read up on how simple it is to recycle aluminium foils in this ReFoil blog on recycling at Kinky Curly Straight.
http://refoil.com.au/2014/recycling-is-simple/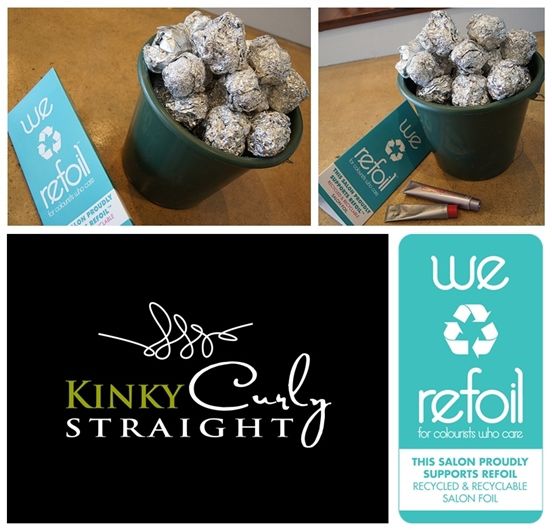 ---
We are Animal Friendly
The products we use and sell in our salon are not tested on animals; you know those little white rabbits and little Chihuahuas. We love our animals and believe we can provide you with products that are equal if not even better and don't require animals to suffer in the process.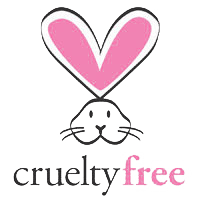 ---
A Few Tips How we Recycle & Reuse in the Salon
We recycle all paper by having a special paper recycle bin in the office.
We recycle plastic bottles from our products by putting them into the yellow recycling bin.
We recycle cardboard by either reusing bigger boxes for storage or placing them in the yellow recycle bin.
We don't use much glass, but if we do it goes straight into the yellow recycle bin.
Our EasyDry towels get placed in normal waste, as they are 100% bio-degradable; we are waiting for Australian landfill companies to establish recycling for these types of towels, as they can be recycled as well as being bio-degradable.
Aluminium foil we recycle by making tennis size balls and placing them in our special aluminium only bin, which then gets sold to metal collectors and raised funds get donated to the SA Cancer Council. All our aluminium foil is by ReFoil and is made from recycled aluminium so we are not contributing to making new aluminium by using aluminium foil.
Colour tubes that are also made from aluminium we wrap into our aluminium tennis balls so they too get recycled.
We reuse coffee beans by giving them to our local gardener.
We donate our hair, which we collect in a separate hair only bin, to our local gardener and he uses it in compost or as fertiliser.
Other helpful environmental tips from Kinky Curly Straight:
Our floor and hard surface cleaners, kitchen dishwashing liquid and all toilet cleaners are by Earth Choice from Natures Organics, developed to help nature by using natural products as much as possible. The products are not tested on animals and come in 100% recycled packaging.